UPDATED JULY 2023
Join Us
We are looking to invite students from different parts of the world, who are passionate about studying at a top-ranked university in California and interested in taking courses in participating departments. We have students from a variety of disciplines who take courses both related to their academic majors or minors and also related to their own areas of interest. Riveting classes are available in a variety of subjects such as sociology, anthropology, literature, math, astronomy, earth and planetary science, and political science, and also from multidisciplinary subjects in business, media, health, languages, international relations, cultural and global studies to name a few.   
Step 1: Check for your home university on the BISP Partners' List. 
Students from a partner university: Contact the International Office at your school to begin the application process. We recommend doing this as soon as possible; deadlines will be earlier at your university than our deadlines. If you meet your home university's criteria, your school will nominate you to BISP.  Upon nomination, qualified students will be invited to interview with BISP staff. 
Independent students: Please send the following materials to bisp@berkeley.edu for initial review.
1. English Language Proficiency: Those from non-English speaking universities must meet a minimum score on an English Language Proficiency exam, such as on of the following:
TOEFL: score of 90
IELTS: score of 7.0
Duolingo: score of 115
If you have taken another type of English Language exam, please let us know so we can determine whether this alternative exam is acceptable.
2. Transcript(s): We are looking for students who have taken at least one year, preferably two years, of academic courses at an accredited university before studying abroad at UC Berkeley.  Students with high marks or grades will be given priority consideration, generally equivalent to a U.S. grading system between 3.0 (B) and 4.0 (A). In some cases we will be looking for basic prerequisite courses in the subjects you would like to study at UC Berkeley. An unofficial copy is acceptable.
Note for gap year students: For those interested in the BISP experience following high school graduation, we encourage curious and ambitious students to apply. You will be required to submit a copy of your high school transcript instead of a college transcript.
Note for post-baccalaureate (post-bac) students: BISP welcomes those who have completed their university degree and are seeking further enrichment. You will be required to submit a copy of your college transcript.
3. Personal Statement/Academic Interests: Please include a personal statement (no more than one page) that addresses your personal and academic interests for your time abroad.
---
BISP: Spring 2024 Important Dates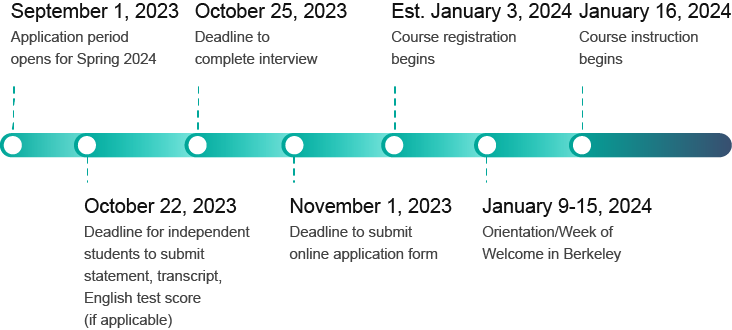 ---
What to Expect Next
Qualified students will be contacted to arrange an informal interview to discuss the program in more depth.
Accepted students will receive a BISP invitation letter and upload necessary information and documents to our online application system.
Passport or other photo identification
Financial statement for F-1 student visa 
We hope to have the opportunity to welcome you to spend a semester, or maybe two, with us at Berkeley. We are sure you will find it to be an incredible academic and cultural experience.